In the crazy world of biotech financing, precocious startups are scoring big checks from investors with some often laughably early data. Now, a California immune modulation player is ready to uncloak with a nine-figure down payment in hand and an unusually advanced pipeline.
Encinitas-based Ventyx Biosciences has scored a $114 million equity investment to try three different immune modulator targets in the clinic, one of which is already squared up for a Phase II study in ulcerative colitis.
Part of a joint entity weaving together three New Science Ventures companies working on immune modulators, a redesigned Ventyx sports an S1P1 receptor modulator for IBD as well as a TYK2 inhibitor the biotech will initially pit against Crohn's disease in an upcoming Phase I.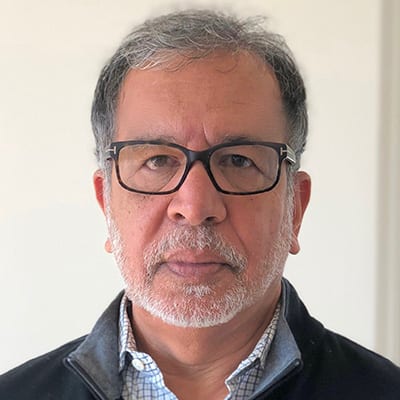 Raju Mohan
The decision to uncloak its previously-under-wraps pipeline — what CEO Raju Mohan called a "quiet mode," rather than stealth — was an opportunistic play for Ventyx spurred by investor interest in what the team was working on.
"Part of the goal of setting up the single company is to have single interest from investors," Mohan told Endpoints News. "This was not a plan — we had a lot of inbound interest in our portfolio, and we felt that combining these together, both for the company and for investors, would be really attractive."
The round is led by venBio Partners, which will plant Richard Gaster and Aaron Royston onto the company's board. Third Point's Jigar Choksey will also join the board as part of the financing round.
Mohan, the founder and CEO of Allergan-acquired NASH player Akarna Therapeutics, said Ventyx's two lead compounds and a third targeting the NLRP3 inflammasome are "truly differentiated" in a space brimming with big-name competitors.
The furthest along of Ventyx's pipeline is its S1P1 receptor modulator program — OPL-002 — which the joint entity absorbed from Oppilan Pharma. The "peripherally-restricted" molecule was designed specifically for IBD, unlike other S1P1s repurposed from multiple sclerosis applications — think molecules like fingolimod or ozanimod — and designed to modulate the blood-brain barrier.
That specificity for IBD, particularly ulcerative colitis where Ventyx is hoping for an initial approval, means Ventyx can be extremely specific in the drug's targeting to limit downstream toxicities, Mohan said.
Meanwhile, Ventyx is also gunning for a Phase I study for its TYK2 program, VTX-958, an import from the original Ventyx Biosciences formed in 2019 and targeting a range of immunology conditions. The first of those, Mohan said, is Crohn's disease, but the biotech has aspirations in psoriasis, psoriatic arthritis and lupus, to name a few.
VTX-958 is what's known as an allosteric TYK2, which can in theory inhibit downstream signaling to IL-12, IL-23 and Type I interferon cytokines linked to inflammation without the nasty side effects of the pan-JAK inhibitor class with which it shares a mechanism of action. Researchers have struggled to develop a TYK2 that is far more selective in its targeting than the JAKs — but Mohan believes allosteric VTX-958 could prove a winner there.
"A truly selective TYK2 does not cross over into the JAK family — and that's what we have," he said. "We think it has the potential to be best in class."
Of course, those clinical outcomes for both the S1P1 and TYK2 molecules have yet to be seen: Ventyx hasn't shared its data and expects to start turning some of those out in the near future. And even if VTX-958 does keep chugging along, it's likely to face at least one competitor.
In November, Bristol Myers Squibb rolled out Phase III head-to-head early data for its own TYK2 hopeful deucravacitinib showing the drug beat out no less a challenger than blockbuster Otezla in clearing psoriasis patients' skin. It was an early reward for Bristol, which opted to stick with deucravacitinib and bail on Otezla as part of its merger with Celgene. Meanwhile, even small players like Neuron23 are in the game for the first FDA-approved TYK2. The biotech scored a $113 million combined Series A and B in December and is advancing a TYK2 it believes can stave off neuro-inflammation.
On top of those two lead compounds, Ventyx also has a NLRP3 modulator in the preclinical stage for peripheral, CNS-penetrant and tissue-selective applications, which could reach a broad range of therapeutic areas. The NLRP3 inflammasome, a key signaling protein in the innate immune system, received a big boost as an antibody target for CV and CNS following Novartis' readout from its CANTOS study in 2017 showing its IL-1beta blocker Ilaris significantly reduced CV risks.
Ventyx's program, ZMG-2735, which targets NLRP3 to regulate downstream IL-1beta cytokines, is "very close" to the clinic, Mohan said, without offering timelines.
With its slate stacked, Mohan said Ventyx was immediately focused on getting its clinical programs through the next couple years — but could be open in the future to capitalizing on the rising tide of biotech valuations, whether that's an IPO, reverse merger or otherwise.
"We're well funded, we can take all these compounds through proof of concept for the next couple of years, we've got a bunch of really exciting discovery programs — so honestly our laser focus is on building this company,"  he said. "That is the near term goal, but having said that we will look at all opportunities whether they're financing or strategic at the appropriate time."
VenBio, Third Point and New Science were joined by new investors in the round, including RTW Investments, LP, Janus Henderson Investors, Wellington Management, OrbiMed, Surveyor Capital (a Citadel company), Farallon Capital, Vivo Capital, Logos Capital, Qiming Venture Partners USA and Cormorant Asset Management.