Incyte's stalwart JAK inhibitor Jakafi has raced out to blockbuster sales without the safety burden of other drugs in the class. Now, the drugmaker's quest to reformulate the drug for easier use could be nearing fruition — but big challengers await.
The FDA will give a priority review to Incyte's topical cream reformulation of JAK inhibitor Jakafi in atopic dermatitis, the drugmaker announced Friday.
The agency will base its review on data from the TRuE-AD program, which has tested more than 1,200 patietnts with ruxolitinib cream, Incyte said. The cream's review date is set for June 21.
A topical application for AD would be a big step up in terms of patient ease of use over Sanofi and Regeneron's Dupixent, an infusion that is the leading drug on the market for that indication. An approval would also boost Incyte's blockbuster Jakafi program, which raked in $1.94 billion in 2020.
Unlike other JAKs, including Eli Lilly's Olumiant, which Incyte developed, Jakafi doesn't sport the black box warning label for serious infections, malignancies and thrombosis common to the class. — Kyle Blankenship
Lilly Asia Ventures backs a big B round for Shanghai-based Regor
A group of Big Pharma vets from Pfizer and Amgen have rounded up a $90 million B round to back clinical development work at their Shanghai-based startup Regor Therapeutics.
Founded by a team that includes 2 Pfizer vets, CEO Xiayang Qiu and Min Zhong, and CTO Wenge Zhong, formerly with Amgen's China R&D operation, Regor has been building up its platform tech with a focus on oncology, metabolic diseases and autoimmune diseases.
The Chinese pharma company Qilu Pharmaceutical Group put up the A round for the company launch in 2018. Now there's a whole new syndicate, led by Lilly Asia Ventures, a prolific venture group with a finger in many pies in China. Loyal Valley Capital, Lanting Capital, TF Capital and Vertex Ventures China all joined in.
"With the next decade comes a historical moment for China's leap upwards. We are delighted to collaborate with veteran scientists, leading entrepreneurs and investment partners in biopharma industry," noted Andy Lin, founding partner of Loyal Valley Capital. — John Carroll
Eurofins Scientific adds new CRO to portfolio
Eurofins Scientific, an international group of laboratories headquartered in Luxembourg, just bought a new CRO.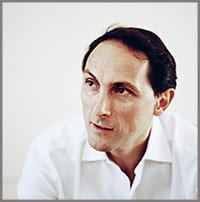 Gilles Martin
The bioanalytical testing company announced Thursday that it had acquired Beacon Discovery, a CRO focused on G-protein coupled receptor research. Financial terms of the deal were not disclosed, and Beacon will be enveloped into the Eurofins Discovery CRO umbrella once the deal closes in the coming weeks.
Eurofins says the move will support and accelerate drug discovery research and development in order to capitalize on the growing R&D outsourcing market.
"Beacon Discovery adds the expertise in GPCR targets and drug discovery and development experience that will advance our offering in integrated drug discovery services for our clients," Eurofins CEO Gilles Martin said in a statement. — Max Gelman
China's Sciwind hauls in $37M Series B
Chinese biotech Sciwind Biosciences has some new dough to throw around. The company announced Friday it had completed a $37 million Series B round, led by LYFE Capital and joined by existing investors, Legend Capital and Haibang Venture Capital.
Sciwind focuses on chronic metabolic and immunological diseases, and has completed a Phase I study of its lead program, XW003. Sciwind is expected to launch several Phase II trials for the candidate in 2021, including in Type II diabetes, obesity and NASH. — Max Gelman