Paul Peter Tak has done it all: From a professorship in his native Netherlands to the head of immunoInflammation R&D at GlaxoSmithKline, from leading small biotechs to more recently joining the venture world as a Flagship partner, he's often found himself in roles he wouldn't have imagined himself.
His latest appointment as CEO of oncolytic virus company Candel Therapeutics is one of them.
The pandemic might have accelerated the move, he admitted. Having commuted between the two Cambridges across the Atlantic to during the last couple years, Tak gave up his apartment in Massachusetts back in March and started tuning in remotely to meetings at Kintai Therapeutics, the Flagship startup where he was chief executive. Then he was asked to hop on Zoom to talk about Candel — a biotech he's never heard of but works in oncolytic viruses, an instantly recognizable modality.
"There's a lot of excitement in the field and I think it's one of the next big things in medicine," he said.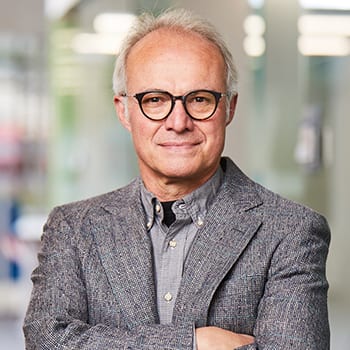 Estuardo Aguilar-Cordova
Several months of due diligence later, he was hooked. Previously known as Advantagene, the company was founded by Estuardo Aguilar-Cordova in 2002 based on years of research in the gene therapy space. Leveraging a non-replicating adenovirus as a shell, he can deliver an enzyme that converts a companion small molecule prodrug into a cancer killing metabolite.
With $65 million in venture funding so far, the platform spawned four clinical programs in prostate cancer, glioblastoma, non-small cell lung cancer and pancreatic cancer, now in mid-to-late-stage trials.
"I don't know many companies that are already Phase II and Phase III but in immunotherapy in cancer that has dosed more than 700 patients that basically come more or less out of stealth mode," he said.
While the first generation of oncolytic viruses failed to live up to expectations — even Amgen's approved T-Vec posted modest sales — Tak believes a smarter way of going about development and appropriate combinations will result in better data and adoption.
Intratumoral administration, he posits, might have been a big hurdle, and it matters who's administering the treatment. Instead of medical oncologists, who may not be used to injecting tumors, Candel is going after indications where the oncolytic virus would be delivered by surgeons. In the case of prostate cancer, it'd be urologists who are familiar with biopsies and similar procedures.
Candel is also collaborating with Bristol Myers Sqiubb to test its oncolytic viruses in combination with Opdivo.
The first Phase III trial in prostate cancer is underway, and he plans to start another for glioblastoma in 2021.
Aguilar-Cordova will now step into the CSO post, working with a new C-suite that Tak has recruited since starting in September. Nathan Caffo is jumping from ALX Oncology to become the chief business officer; Frequency alum John Canepa will be chief financial officer; while Susan Stewart is taking up the new role of chief regulatory officer.
Interestingly enough, the role with Candel will eventually bring Tak to Needham, MA, where the company is headquartered and plotting a manufacturing site. He is also in the process of setting up a new discovery platform built on a herpes simplex viral vector.
"We can do this again and again," he said.