A little less than two years after securing $40 million in a Series B, Imago Biosciences has returned to the venture capital well with an even bigger prize.
The San Francisco-based biotech has pulled in $80 million for their Series C on Thursday, aiming to use the funds for one Phase III trial for their lead blood cancer program, bomedemstat. The experimental drug is being evaluated in two Phase IIb studies, in myelofibrosis and essential thrombocythemia.
"We started this crossover campaign in the latter part of the summer and it came together very quickly," CEO Hugh Rienhoff told Endpoints News. "It was oversubscribed, but we only wanted to raise $80 million."
Farallon Capital Management led the round, with new investors including T. Rowe Price, Blackrock, Surveyor Capital, Irving Investors and Kingdon Capital Management.
Rienhoff's plan here is to use this funding for a Phase III in either MF or ET, and then prep an IPO sometime next year to get the cash for the other indication. Both of the Phase IIb trials are expected to be fully enrolled by the middle of 2021, and since they're open-label, Imago can check every week to see if bomedemstat has hit the primary endpoints, he said.
In the best-case scenario, Imago will launch both Phase III studies in mid-2022, giving the company roughly two years to obtain all the necessary funding for both late-stage trials, CBO Ed Baracchini said. The IPO will likely be higher than Thursday's Series C, Rienhoff added, though the money from this raise will carry one of the studies through completion in 2025.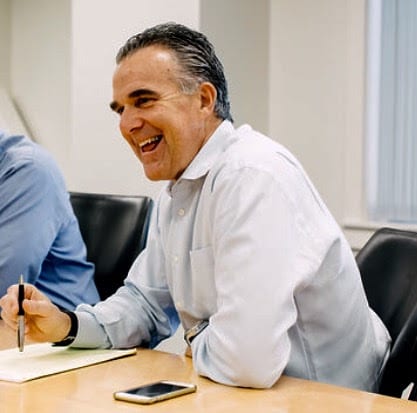 Ed Baracchini
Bomedemstat works by inhibiting LSD1, an enzyme that plays a pivotal role in stem cell differentiation and reproduction in these types of blood cancers. The mutations picked up in MF and ET are both related to this enzyme, and by tamping down on the activity Imago hopes to kill malignant stem cells and reduce platelet production gone awry, the latter being a major problem in ET.
"I'm very optimistic that we have the right indications for this target, and I think we have the right drug for this target," Rienhoff said. "In other words, not all LSD1 inhibitors are created equal, and so there have been other LSD1 programs that have failed because the drug got into the wrong place or hit the wrong target other than LSD1. So we're fortunate in that regard, and it also has a terrific safety profile."
Further down the pipeline, Imago is looking to test bomedemstat in combination with ruxolitinib, also known as Incyte's blockbuster JAK inhibitor Jakafi. The drug, which is approved to treat polycythemia vera and forms of myelofibrosis, netted sales of nearly half a billion dollars in 2020's second quarter and $1.7 billion in 2019.
A combo therapy of ruxolitinib and bomedemstat could work particularly well for patients just starting their treatments, Rienhoff said, because while ruxolitinib on its own helps symptoms of the disease, most patients lose benefits after two or three years since it doesn't aid disease progression. That's where Rienhoff says Imago's candidate can step in.
"We're focused on those patients that have exhausted, if you will, the clinical benefits of ruxolitinib and need something else that has a completely distinct mechanism of action," Rienhoff said.
Imago is also developing programs for sickle cell disease and solid tumors, but those won't hit the clinic until 2022 at the earliest.
Existing investors to return for this round included Blackstone Life Sciences, Frazier Healthcare Partners, Omega Funds, Amgen Ventures, MRL Ventures Fund, HighLight Capital, Pharmaron Investments, Greenspring Associates and Xeraya Capital.