Atea Pharmaceuticals and SQZ Biotechnologies have priced their public debuts, adding to this year's record biotech IPO raise — a pot spilling over $13 billion that dwarfs the total raises of the last four years.
Last Friday, Nasdaq head of healthcare listings Jordan Saxe counted 72 biotech and biopharma IPOs this year, together raising $13.2 billion. He pegged a "fair estimate" of 75 debuts and just under $14 billion in proceeds to round out the year.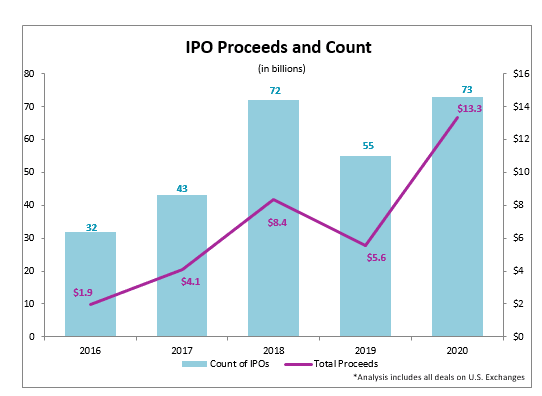 On Thursday, Atea priced an upsized offering at $24 per share — the high end of a $22 to $24 range. The Boston-based biotech initially sought a $100 million raise, according to an S-1 filed earlier this month. On Monday, Atea set the terms at 11 million shares, which would have netted $232.1 million at the midpoint of its price range. But on Thursday, the company bumped its offering up to 12.5 million shares, reeling in $300 million.
Atea is working on antiviral therapeutics to treat single-stranded ribonucleic acid (ssRNA) viruses. It plans on pouring $300 million into its lead candidate, AT-527, which is currently in a Phase II trial to treat moderate Covid-19, with topline results expected in the first half of next year. This month, Roche agreed to pay $350 million for development and commercialization rights to AT-527 outside of the US.
Another $60 million will see Atea's AT-787 program for hepatitis C virus (HCV) through a Phase II trial, according to the company's S-1/A. About $40 million will go toward AT-752 for the treatment of dengue, and $60 million will go toward development of AT-889, AT-934 and other candidates for the treatment of respiratory syncytial virus (RSV).
As of June, the roughly six-year-old biotech had burned through $68.2 million.
SQZ, on the other hand, priced at the low end of its range: over 4.4 million shares at $16 apiece. The biotech filed for a $75 million IPO earlier this month, and according to the S-1/A, pricing shares at $17 (the midpoint of the company's range), would have brought in just $66.7 million.
The biotech, pronounced "squeeze," launched from the lab of MIT's Bob Langer in 2013. Current CEO Armon Sharei helped discover the technology as a PhD student, which squeezes cells through a microfluidic chip, creating an opening for drugmakers to slip materials into the cell more effectively.
Using IPO proceeds and existing cash, SQZ plans on throwing $75 million into its lead candidate, SQZ-PBMC-HPV, designed to attack HPV+ tumors. The candidate is in Phase I as a monotherapy and combination therapy with other immuno-oncology agents for HPV16+ advanced or metastatic solid tumors. "We expect to initiate the combination portion of the trial in the first half of 2021 and expect initial data in the second half of 2021," the S-1/A states.
Another $25 million will go to the first clinical trial of its other HPV+ candidate, SQZ-AAC-HPV. As of June, the company had blown through $96.8 million.
Sharei, whose 2019 base salary was $460,000, holds just over 3.6% of the company's shares, according to the S-1/A.