Phase III advance trial data for AbbVie's migraine prevention drug atogepant look good — but are the results good enough to rival Biohaven's two-in-one treatment and prevention drug, rimegepant, sold as Nurtec?
AbbVie picked up atogepant from Allergan in a $63 billion buyout last year. It also claimed the Botox franchise and $16 billion in annual revenue.
Vamil Divan, an equity research analyst with Mizuho Financial Group, said atogepant and rimegepant are "natural competitors": two oral drugs that could hit the market around the same time. Nurtec took the lead with FDA approval in February. Atogepant met primary and secondary endpoints in pivotal Phase III testing, and Illinois-based Abbvie is pushing for regulatory submissions in the US and abroad.
"We do think the Nurtec product will be bigger overall, but a lot of that is because the revenue is coming from the treatment side, not just from prevention," Divan said.
AbbVie has a separate FDA-approved drug, ubrogepant, to treat adults who experience migraines without aura.
"The main thing that AbbVie seems to have is the drug looks a lot more effective than Nurtec does," Divan said.
Though he followed up with a disclaimer that "these comparisons are always challenging to do when you're comparing across trials." And atogepant may come with higher rates of increased constipation and nausea, according to Mizuho's analysis.
The industry has come a long way since the first drugs specific to migraine prevention — erenumab, fremanezumab and galcanezumab — were approved by the FDA in 2018. Galcanezumab (or Emgality), for example, requires patients to self-inject one dose per month. But injectable drugs may soon be needled out by oral candidates like atogepant and rimegepant. Both AbbVie and Biohaven tout their oral drugs as first of a kind.
With migraine affecting nearly one in four U.S. households, the illness is the third most prevalent worldwide, according to the Migraine Research Foundation. Migraine-induced healthcare and lost productivity costs could be as high as $36 billion annually in the US.
In its Phase III trial, AbbVie tested 910 patients who suffer four to 14 migraine days per month with its orally administered calcitonin gene-related peptide (CGRP) receptor antagonist. The patients received either 10 mg, 30 mg, or 60 mg of atogepant once per day, or a placebo.
Results showed that those who took varying amounts of atogepant over the course of 12 weeks experienced between 3.69 and 4.2 fewer migraine days compared to the initial monthly mean. Those on the placebo said they had 2.48 fewer migraine days. To put that in perspective, just over half of patients on atogepant experienced at least a 50% reduction in mean monthly migraine days, compared to 29% of placebo patients.
Patients who received 30 or 60 mg of atopegant also passed all of AbbVie's secondary endpoints, including change from the baseline in mean headache days, mean monthly days in which acute medication was used, mean performance of daily activities and physical impairment domain scores, and Migraine-Specific Quality of Life Questionnaire (MSQ) Role Function-Restrictive domain scores. Those who only took 10 mg passed just four of the six secondary endpoints.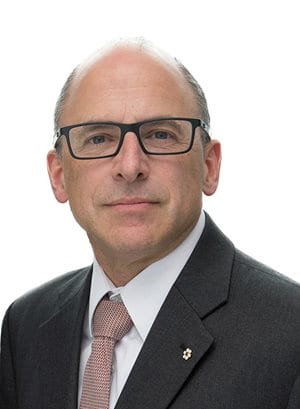 Tom Hudson
"Migraine attacks can be debilitating, but migraine is a treatable disease, and people living with it are not alone in their battle to control it," Tom Hudson, SVP of R&D and CSO at AbbVie, said in a statement. "With the results from these trials, we aim to provide a safe and effective preventive treatment that offers patients and healthcare providers a simple, once daily oral treatment that works specifically by blocking CGRP receptors and preventing migraine."