AbbVie has long fiercely protected its flagship Humira — the world's bestselling drug — with a patent raincoat perhaps as durable as a Mackintosh. And while it has made a series of moves for a post-Humira future, notably the $63 billion acquisition of Allergan, a US judge has ruled in favor of the company against allegations that it engaged in anticompetitive conduct to elbow out rivals in the United States.
The allegation is hardly novel. A host of critics, including US lawmakers, have long admonished the company's patent-aggressive approach to insulate Humira from US biosimilar competition. AbbVie currently holds more than 100 patents for Humira and through deals it has eked out with rivals, the first US biosimilar isn't expected to hit the market until 2023 — two decades since the drug was first introduced.
In 2018 alone, the anti-inflammatory biologic raked in peak sales of $20 billion — or the current market capitalization of Incyte. Between 2012 and 2018, it generated US sales of more than $56 billion.
When AbbVie's main patent for Humira ran out in 2016, AbbVie applied for a raft of new patents — solely for the purpose of shielding the drug from any biosimilar competition in the United States, the complaint alleged, adding that the move was further strengthened by AbbVie's agreements with rivals Amgen, Samsung Bioepis, and Novartis' Sandoz to keep biosimilars off the US market until 2023.
"AbbVie has exploited advantages conferred on it through lawful practices and to the extent this has kept prices high for Humira, existing antitrust doctrine does not prohibit it, US District Judge Manish Shah wrote in an order dismissing the lawsuit on Monday.
The plaintiffs in the lawsuit are indirect purchasers of Humira, including the City of Baltimore, an insurance trust fund for Miami police officers and a benefit plan for pipe trade workers in Minnesota.
Their allegations, that Humira competition was blocked in the United States via a so-called "patent thicket," also highlighted that AbbVie has worked out deals with biosimilar companies to launch in Europe despite existing patents there. In the first full year after European biosimilars launched, Humira's international sales fell by 28% to $4.3 billion.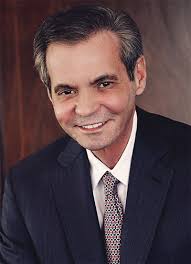 Richard Gonzalez AbbVie
When grilled about AbbVie's conduct at a Congressional drug price hearing last year, AbbVie chief Richard Gonzalez said that while some European nations have bagged an 80% discount on Humira, the US price (about $4,500) of the drug and the sales it generates is what keeps the company's R&D engine hot.
AbbVie's conduct constituted a "disparate set of aggressive but mostly protected actions to allege a scheme to harm competition and maintain high prices," the judge acknowledged on Monday.
But even when the allegations are "considered broadly and together for their potential to restrain trade, they "fall short of alleging the kind of competitive harm remedied by antitrust law," he said.
His reasons for dismissing the lawsuit were twofold — that the plaintiffs' theory of antitrust injury was too speculative, and that AbbVie is largely protected by the Noerr–Pennington doctrine.
The doctrine, which developed in the context of two US Supreme Court cases decided during the 1960s, is a defense rooted in the First Amendment. In essence, the doctrine renders a company or individual immune from anticompetitive liability if their activity is a good-faith attempt to seek government action, even if that action is injurious to a competitor.
In AbbVie's case, the company has asserted there is nothing illegal about amassing a broad portfolio of legitimate patents and that, even if a few were issued erroneously, the Noerr–Pennington doctrine immunizes it from liability.
The judge agreed.
"Here, the vast majority of the alleged scheme is immunized from antitrust scrutiny, and what's left are a few sharp elbows thrown at sophisticated competitors participating in regulated patent and biologic-drug regimes," he said. "Some of AbbVie's conduct was not immunized by the Noerr–Pennington doctrine—including what plaintiffs allege to be the heart of their monopolization claim—but much of what preceded and followed that conduct was immunized, which makes the entirety of alleged monopolization scheme immune, because plaintiffs' theory depends on all the components of AbbVie's conduct as the means to suppress competition."
Meanwhile, AbbVie's plan to fill the Humira-sized hole in its portfolio is in full swing. The Allergan buyout, which was consummated in May, will relegate Humira to a 36% share of product sales and 40% of gross profit by the end of 2022, compared to 58% of revenue and 63% of gross profit last year, according to calculations by SVB Leerink analyst Geoffrey Porges.
The company has also secured the approval of two follow-up anti-inflammatory drugs that have been tapped as potential blockbusters: Rinvoq and Skyrizi. On Wednesday, it also forked over $750 million in cash and up to $3.15 billion more in milestones to ally with Genmab on a slate of 7 development and discovery cancer programs.